Blue Capped Oyster Mushroom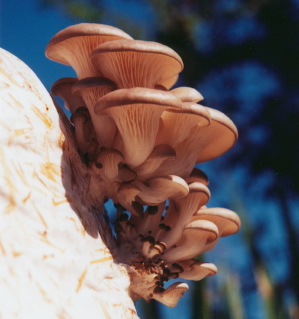 Pleurotus columbinus
The blue capped oyster mushroom is the perfect choice for mushroom cultivation in cooler climates. It grows at temperatures from 50° to 70°. This mushroom grows well outdoors in the shade.
How to make straw blocks to grow Blue Capped Oyster Mushrooms
At your'How to Grow Pink Oyster on a block of straw' page, there is no information on what to do BEFORE the straw is in the bag.--There should be. The site was originally made for folks who buy kits from me. To make a kit yourself, just cook straw at 160-180°f. for one to two hours. (I use a hardware cloth basket that just fits inside a food grade 55 gallon drum, and heat it with a weed burner, to make 9 in a batch.) You can easily make a basket from the type of hardware cloth used in the bottom of a rabbit hutch. It's strong and can be tied into the shape of a cylinder with tie wire. #9 tie wire can be used to form handles. Make the cylinder just smaller than the drum. Cut two circles from the hardware cloth for the top and bottom. In the bottom of the 55 gallon drum, place 2 steel stakes or other spacers. This allows water to circulate under the straw while you cook it.
Pack straw in a wire basket.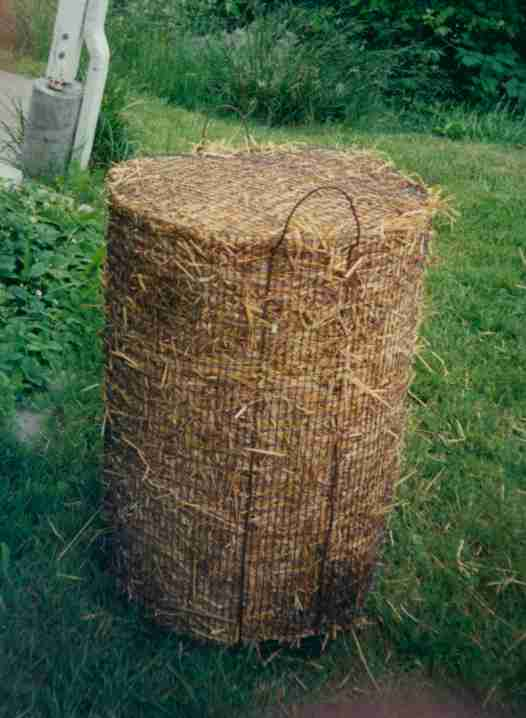 18 kg of straw ready to cook
Once the straw is pasteurized, cool it to <100°f. and innoculate with grain spawn at a rate of 5 to 20%, wet spawn to dry straw. Keep everything, including your hands, clean with >90% alcohol. Break clumps of grain apart; a clump has the same effect as a single grain, so breaking a clump into grains multiplies its effect. Distribute kernels of grain spawn throughout straw as evenly as possible. Pack into 18"x24" poly bags. Pack the straw tight. When I'm not using spawn I expanded out myself, I buy spawn from Bill Chalmers or from Paul Stamets. When I buy $60-$100 worth of spawn at a time, it costs me about $2 per bag of straw for spawn . It costs $10 or $15 to ship one or two bags of spawn. I'll do what I can to encourage you to try this. Watching the mushrooms grow is fascinating. Watching people's reactions to the fresh mushrooms is also fun.
Submerge straw basket in hot water .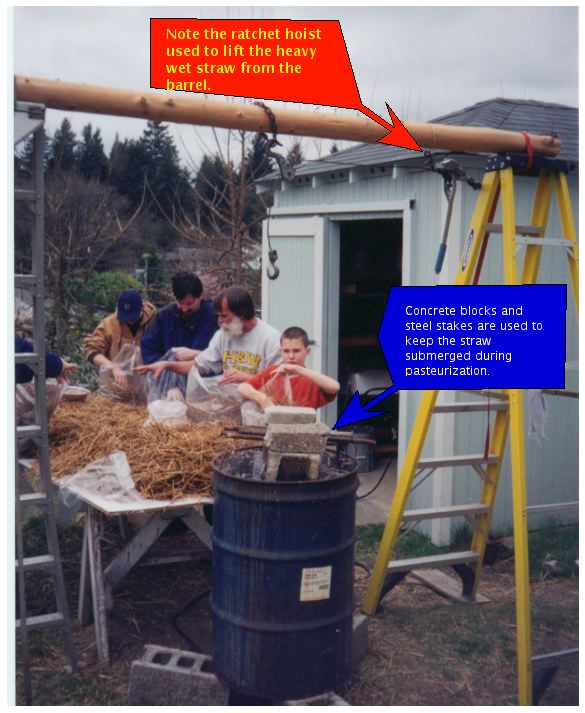 Second batch cooking while first batch is being innoculated
Innoculate the straw with grain spawn .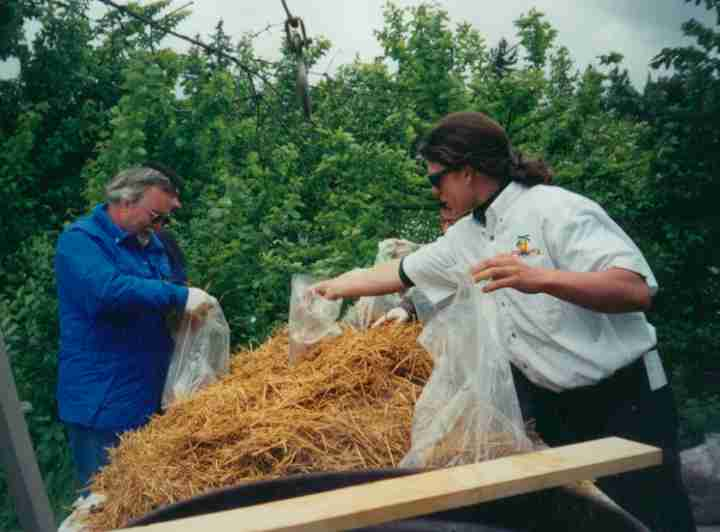 20 kernels of grain spawn per 5 cm layer of straw is enough
Next, poke holes in the bag. -- I usually poke 30 holes with a three blade hunting arrow.
Water them as needed. -- Once holes are cut in the bag, it is a good idea to keep them moist. If you notice water droplets inside the bag, all is well. If you see liquid collecting in the bottom of the bag, you have been watering too much; stop for a few days
Are these good to eat? -- Yes.
Can these be grown outside? -- Yes, if it is above 50°.
Are there disadvantages to outdoor cultivation? -- Yes. Flies lay eggs (that become maggots) in the fruiting bodies. Wild creatures may sample them before you get the chance.
Can this cultivation kit be expanded to new straw to make more kits? -- Yes. Success depends on how clean and complete a capture you have with the kit, and the age of the mushroom when it was expanded into the straw. If you want to do that, check with the spawn cultivator to see how many times that particular mushroom has been expanded before expending the effort to use the kit for spawn. The cost of new, vigorous, spawn is only about $15 per bale of straw. The largest cost is labor to assemble them.

You can learn how to grow delicious, edible mushrooms at home. For information call: (360) 477-4228

You can learn more about the Kitsap Peninsula Mycological Society at their website.

You can contact KPMS by e-mail at:

Please include the words: "subscribe, cultivators' list" in the subject window.
This site created and maintained by Lowell Dietz. Mushroom cultivation is my hobby. I make my living doing carpentry in Sequim Washington. You may view my carpentry website at:http://www.dietzfarm.com/carpentry.